Product Description
When making a turn, the outer wheels of a vehicle must travel faster than the inner wheels. It is up to the differential to act as a balance arm, establishing constant equilibrium of torques and forces between the left-hand and right-hand driven wheels. In standard (or open) differentials, power is directed to the wheel offering the least resistance. This works well when making a turn, but in a situation where one wheel is lifted off the ground, it causes the suspended wheel to turn while the other remains motionless.

Limited-slip (or positraction) and locking differentials are traction-increasing devices. Locking differentials transfer all available torque to both wheels. The teeth of the spider assembly engage with those on the locker clutch, causing both axle shafts to operate as one. Locking differentials don't allow one drive wheel to spin while the other remains stationary. Instead, they keep both wheels in drive mode, but unlock to permit different wheel speeds when turning. The engaging and disengaging of the teeth on automatic locking differentials often causes a banging and clunking sound. Manual locking differentials usually use an electric motor or vacuum diaphragm to engage the locker, reducing this noise.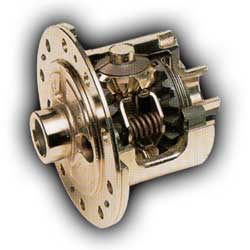 Limited-slip differentials allow different wheel speeds when turning, but when one wheel loses traction, greater torque is transferred to the wheel offering more resistance. Limited-slip differentials make use of friction between clutch plates, as opposed to the meshing teeth employed by locking differentials. Transferring less torque per side, limited-slip differentials are generally smoother and quieter than locking differentials, but still sometimes "chatter" when transferring torque to the wheel with traction.
In some differential applications, a friction modifier additive is necessary to reduce chatter. AMSOIL Slip-Lock Differential Additive is formulated with advanced friction modifiers and is designed to eliminate gear-housing chatter in cars, trucks and SUVs equipped with limited-slip, positraction and locking differentials. It also reduces the banging and clunking associated with automatic locking differentials.
AMSOIL Slip-Lock Differential Additive is formulated for use with both synthetic and petroleum gear lubricants and safely replaces manufacturer recommended friction modifiers. Its convenient flip-top dispenser provides quick and easy application to the gear housing. One four-ounce bottle of Slip-Lock treats differential capacities of two to four quarts. It is not for use in automatic transmissions or other applications requiring ATF.
NOTE: AMSOIL Synthetic Gear Lubes do not require the use of this additive. However, not all differentials respond the same and if chatter is noticed, the addition of AMSOIL Slip-Lock will eliminate it. For chattering differentials not running AMSOIL Gear Lube, this product is an excellent solution to the problem.
HEALTH & SAFETY
This product is not expected to cause health concerns when used for the intended application and according to the recommendations in the Material Safety Data Sheet (MSDS).
Click here to view the MSDS Data Sheet for AMSOIL ADA.
Keep out of the reach of children. Don't pollute. Return used oil to collection centers.